Web 2.0 is about people. Affiliate marketing is about people too. It's about interactions. The reason why affiliate marketing and twitter can get along together so well is because affiliate marketing is in my opinion more effective when it doesn't try to imitate big companies' marketing standards. That's also why micro-niches targeting is so profitable.
So our tools as affiliate marketers are for the most part communication tools. Participating in forum discussions, commenting on blogs, building lists of subscribers, getting involved in a community of like-minded people. Knowing how to communicate with potential buyers through social networking is an important aspect of affiliate marketing nowadays. One catchy headline isn't enough to convert a prospect into a buyer. We therefore can't stay at social networking doors.
In my personal life, I don't have a facebook account and I don't use social networking websites. Maybe you don't either. But that's not the point. We're talking business here. Affiliate marketing and Twitter are a pleasant couple. Of course there are many ways to personalize your website and marketing yourself is always a very good option but Twitter can be an excellent tool for building a reputation, credibility, expertise.
Many marketers though don't feed that twitter bird right! And the freedom Twitter gives makes a lot of people think they can use it as a marketing tool only rather than a socialization tool. There's a balance to find.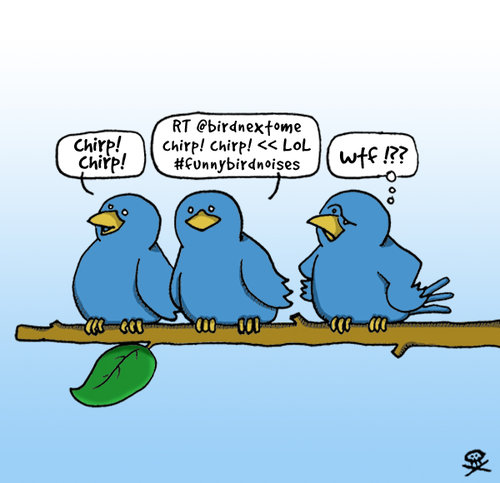 Here's a nice little "affiliate marketing and Twitter" recipe:
-          Don't put links in all your tweets.
-          Don't send more than 3 tweets in a row (a block of tweets)
-          Ask questions
-          Link to other websites as well
-          Be nice
-          Follow people that might be interested in what you have to sell
-          Follow people that you might learn from
Never forget that social interactions are the core of your business, no matter what form it takes. I would never buy from someone who doesn't care, doesn't sound honest, doesn't stop promoting stuff, doesn't give, doesn't know his stuff. Let's sum this up with a nice little sentence: "Be the marketer you'd like to buy from". Nice, right?
Affiliate marketing and Twitter are powerful together. Socialize with people but never forget you're running a business. Just find that balance.
Of course the use of Twitter as an affiliate marketing tool isn't part of the basics of affiliate marketing as there are other key things to master before that. Getting a clear picture of what affiliate marketing consists of is very important in order not to get lost and be overwhelmed by the different affiliate marketing strategies and aspects.