Hey!
I've just received an awesome graph from a top marketer called Jennifer (yes, some girls succeed! lol). It explains in detail how Google works.
But, let's be honest, these guys will never tell us E-X-A-C-T-L-Y how Google works and we, internet marketers, spend hours writing useless and time-wasting posts on forums to debate on how Google really, really works. ;)
So I just want to share with you this great "infographic" showing what happens when you type "cute cats" in Google (or any other keywords of course…). Here's how Google works! (you can click on it to see it full size)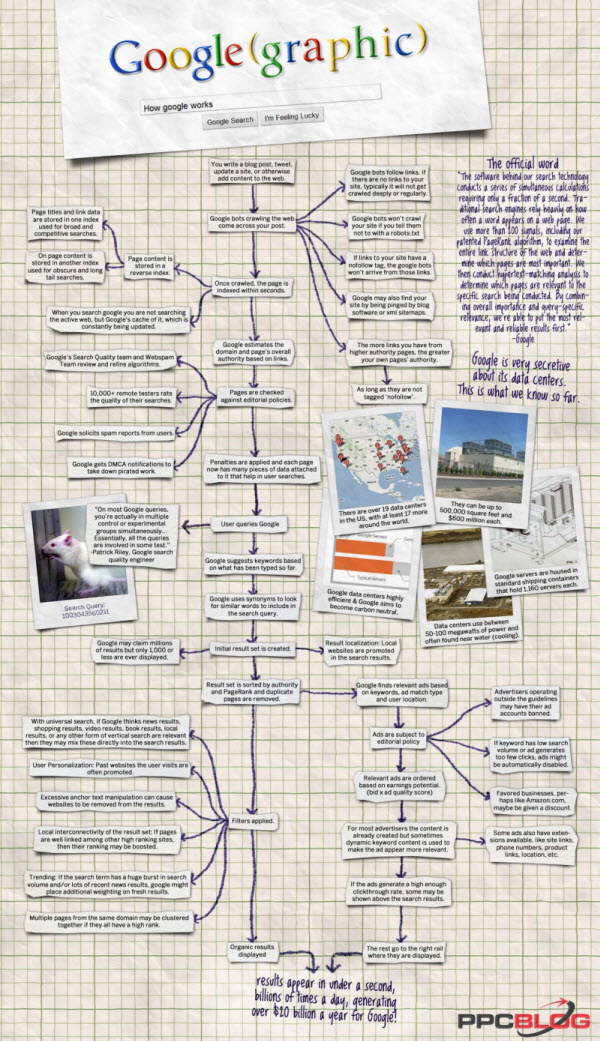 Infographic by PPC Blog
Impressive, huh? Now don't forget that even if their secret recipe will remain as mysterious as the coca-cola recipe, always keep in mind that quality content will always make a difference for the very reason that people recognize great content and communicate about remarkable things, spread the word about them.
Trust this, write quality content, optimize your time, make the most of the hours you can allow to your business, create things that have value and you will be on the right path toward building a lasting success.
Turn off the TV (or smash it) and have a greeeaaat day!
(I don't have TV so I guess it's easy to say so but TV is a time and brain sucker. Oh and a creativity blocker as well.)